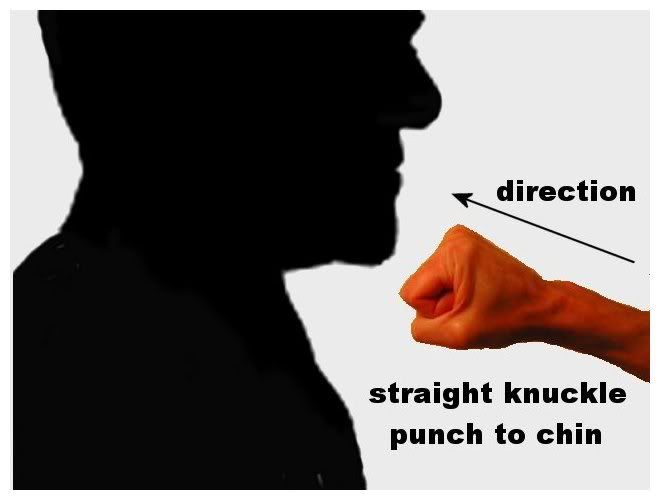 Have you ever been so infuriated that you wanted to straddle some guys neck just so you could pummel him in the face multiple times?
This weekend I was with my cousin at her boyfriend's house, hanging out at a family BBQ before we went off to see "
The Dark Knight
". I had met the family before at the Superbowl party. They were warm, welcoming and pretty cool so I had no insecurities about being there. I did notice that the boyfriend's brother paid extra attention to me. I could actually
feel
him looking at me. It was not a reciprocal feeling on my end.
We were sitting around the table eating when The Brother overhears me telling my cousin about my date the next day.
"You don't have a boyfriend? You're single?"
"Yup."
"Why? You're a nice looking girl."
"Um, I don't know. "
"Even been married before?"
"Nope."
"Really?
What's wrong with you
?!"
Oh. My. God. AREYOUFUCKINGKIDDINGME?
The rage begins with a fire in my chest quickly radiating out to my extremities actually causing my fists to flex. I quickly had to reel it in because I was a guest and I didn't want to embarrass my cousin.
This guy... this F'n GUY, is most likely someone who would give you the shirt off his back to help you. He's probably really sweet once you get to know him. He probably thought it was some sort of back-handed compliment or his perverse method of flirting. But I only met him once and on the surface, he mainly comes off as a jackass.
And really, fuck him! Divorced (I think) father of one who wouldn't be hurt by eating a salad once in a while. His love life isn't one for a Hollywood happy-ever-after story.
I had to coolly respond, "What makes you think that there's some problem with ME that I'm single?"
I think he saw how ferocious I was and the conversation was dropped. He also (wisely) decided to not go to the movies with us as originally planned.
So really? What's up with that question?
I've heard it often enough from distant aunts "you can't wait forever... what are you waiting for?...you're not getting any younger..." Each time it gets responded with a gritted smile and giggle but the rage is there. The last time I lost it and said "Well, I've never been married, therefore I've never been divorced and I consider that a pretty good thing," to my divorced aunt. Whatever. Screw her.
I don't necessarily
like
being single, but I'll take it any day over settling for some ho-hum guy just so I can say that I'm not alone. And I hate having to defend that to family and ass-clowns who think they're trying to be cute.