Last night Viv and I went to see
Poison
play at the PNC Arts Center in Homdel, NJ. The people watching there was awesome. We saw plenty of aged rockers who looked like they partied hard in the 80's. Women who might have been hot once, now were victims of gravity, cheese steaks and hair dye. But that didn't stop one woman from pouring herself into a red leather strapless dress that barely held her in.
Sebastian Bach
from
Skid Row
and
Dokken
both opened up for Poison. Neither of them were anywhere near their vocal range from their heyday. I was in the food court while Sebastian was on stage. All I heard was screaming. We went up on the lawn to watch Dokken, but I was pretty disappointed when Don didn't hit the high notes/screams that he was known for.
Finally the lights went down and Poison took the stage at around 9:00. Musically, and lyrically the are not Grammy contenders. Even time had taken a toll on
Brett
's good looks. He was looking a little haggard and bloated. Poor, Brett.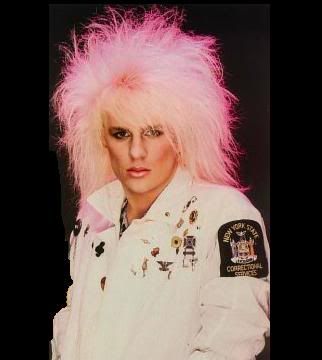 CC Deville
was a silly, little maniac. He pranced around on stage with his glittery guitar, checked his hair in his mirror, and egged on the audience for more cheering. That clown is all ego, but he held up the best out of all the band mates.
The show itself was pretty short. Only an hour, fifteen minutes in total. CC Deville had a guitar solo and
Rikki Rocket
had his drum solo which took about 10 to 15 minutes out of actual band play time.
But what they did play was fun, eternal adolescent stuff. I was brought back to junior high when my jeans were tight, my hair was high and I would be caught dead without my studded belt and feather earrings on.
It was a naive time then. Singing about "in the old man's Ford; behind the bushes; till I'm screaming for more-more-more" was just that. Just singing. Love only lasted as long as a hook up in the closet at a party and the only worries were who was going to win MTV's Friday Night Video Fights and making sure that Billy Warner didn't get my note where I told my best friend that he was cute.
Sometimes I wish I was fourteen again.